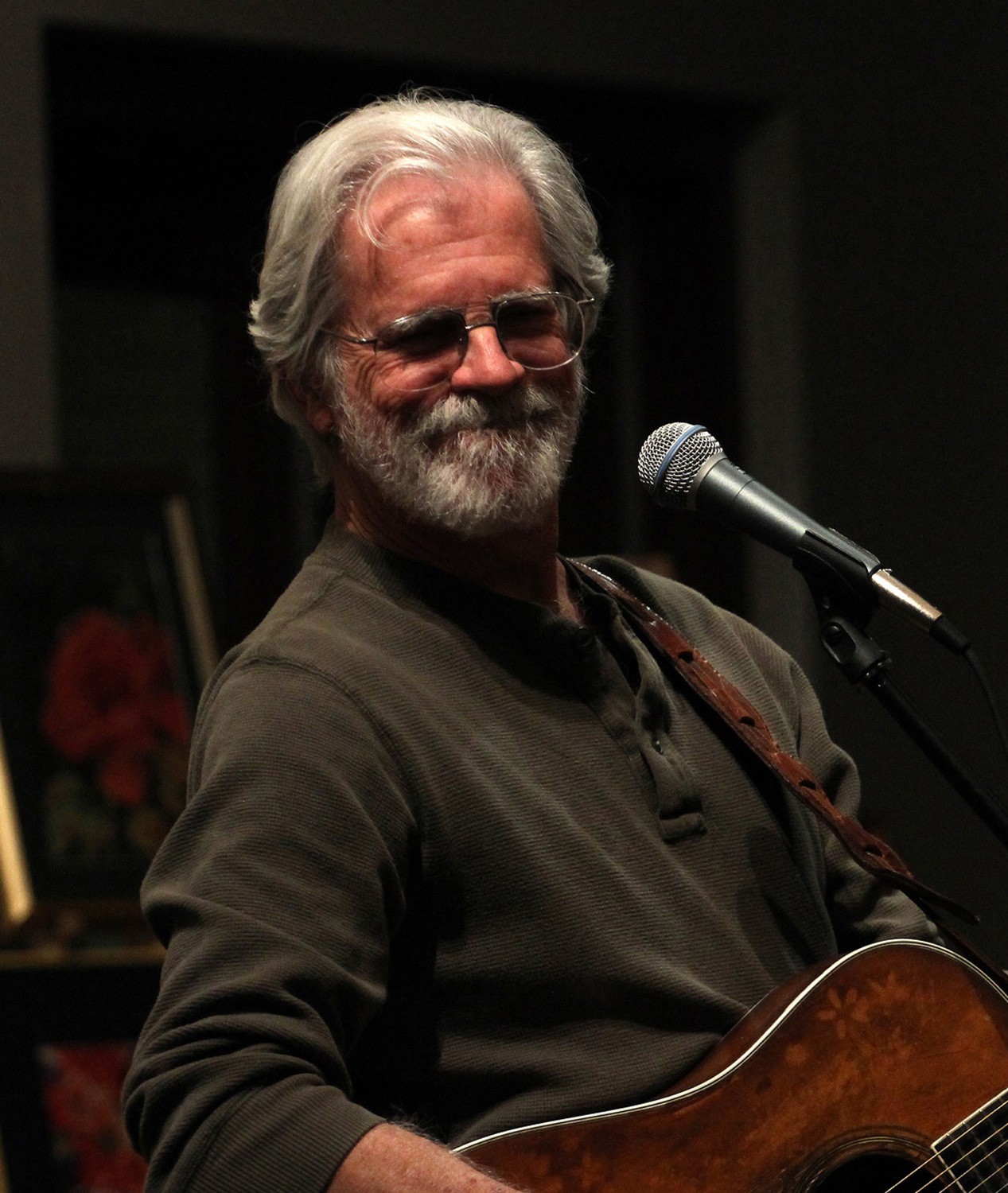 The music of Jack Williams, rooted in his native South Carolina, is shaped by a 65-year career of playing folk, rock, jazz, R&B, classical and the popular music of the 30s, 40s and 50s. He is counted among the most dynamic performers on today's "folk" circuit – "…one of the most enlightened and entertaining performers I've ever encountered", said Dave Humphreys of Two-Way Street Coffeehouse in Downer's Grove, IL. Jack is considered a "musician's musician", an uncommonly unique guitarist, a writer of vivid songs with a strong sense of place, and a storyteller in an old Southern tradition who further illustrates each tale with his guitar.
Rich Warren of WFMT Chicago's The Midnight Special said, "His artistry is nothing short of amazing. I think his audience would've followed him anywhere!".
Vic Heyman, in SING OUT!, wrote, "He is one of the strongest guitar players in contemporary folk."
Avoiding the compromises of the commercial music industry, Jack prefers touring "under the radar", playing concerts, large and small, week in and week out, from the sheer love of music and performing. Jack is a sought-after artist on all contemporary acoustic music stages, from coffeehouses and festivals to music halls and city arts and cultural centers. He also plays for over 60 house concerts each year, where he enjoys a more intimate connection with his listeners. From acclaimed appearances at the Newport, Boston, Philadelphia, Kerrville, Ontario's SummerFolk, and New Bedford's SummerFest folk festivals, his musicianship, songs, stories and energetic performances have established him as an uncommonly inspiring and influential artist.
Jack frequently shares his musical knowledge with others. In addition to leading numerous workshops as he tours the country, he has been on the staff of The Swannanoa Gathering in NC, The Augusta Heritage Center in WV, Lamb's Songwriter Retreat in MI, The Folk Project in NJ, WUMB's Summer Acoustic Music Week in NH, and co-hosts a semi-annual Music Workshop Weekend near his home in the Ozarks.
Jack has ten CDs of original music on the Wind River (Folk Era) label, the newest being "Far Away Long Ago", plus his DVD "High Cotton", a video collection of on-stage performances. An additional CD, "Don't Let Go", is a collection of cover songs reflecting major influences on his musical development. Jack has produced all of his own recordings plus CDs by Mickey Newbury, Ronny Cox, Eric Schwartz, and others.
His songs have been recorded by artists ranging from Tom Jones and David Clayton-Thomas to Chuck Pyle, Cindy Mangsen, Ronny Cox and Lowen & Navarro. In addition to his solo career, as a guitarist he has accompanied such luminaries as Tom Paxton, Peter Yarrow (of Peter, Paul & Mary), Mickey Newbury and Harry Nilsson.
Kevin Oliver of NO DEPRESSION described Jack's music as "…a musical style that's equal parts folk storytelling and Tin Pan Alley songcraft, delivered with the impassioned soul of an old blues singer."
Friendships with two great singers had an enormous impact on Jack's career and on the development of his own singing voice. In 1973, his relationship with the late Harry Nilsson resulted in an album effort at RCA during an ill-fated period of music industry turmoil. Until 2002, he sometimes toured as sole accompanist to his friend, the late Mickey Newbury, with whom he co-wrote, co-produced, and recorded a live album and video, Nights When I Am Sane (reissued as Winter Winds).
Mickey Newbury said, "Jack and his music are an American treasure".
From 1958 through 1988, along with playing jazz (trumpet) and classical guitar, Jack was best known as an electric guitarist in a series of original rock bands and smaller acoustic ensembles. In the late 60's, he gave in to his troubadour nature and began performing solo – singing and playing a classical guitar and touring from coast to coast.
Peter Yarrow (of Peter, Paul and Mary) called Jack "…the best guitar player I've ever heard…"
As a hired-gun guitarist in the Deep South of the Civil Rights-Easy Rider 60's, Jack's bands accompanied the likes of John Lee Hooker, Big Joe Turner, Jerry Butler, Hank Ballard, the Shirelles, and the Del-Vikings.
Jack Williams' music, enriched from these varied influences, is a truly All-American Southern music.